Streamly:
Grow with the flow
A complete task
management suite in Slack
Design a workflow that fits your team
Use the field library to customize your request form
Build a library of fields of any type
Frictionless adoption by stakeholders
A single action pulls up the request form, and the app home keeps everything organized
With workflows that live in Slack, requesters don't need to learn new tools
A private channel for your team to triage and collaborate
Team members become options in the assignee field
Notifications, approvals, and field discrepancy control across tools
A virtual PM
Grant workload visibility to stakeholders
Stakeholders have single location to view and manage requests
Automatically communicate changes back to the requester
Connect and sync your tools
Bring thread replies and files into your tools as comments on each task
Requests from Slack become tasks in your favorite tools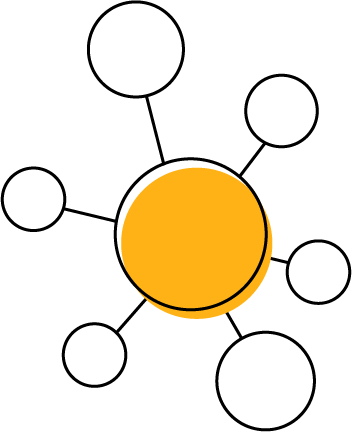 A complete task management suite in Slack
Take advantage of rich functionality and user interfaces without leaving Slack

Give every team the tools to build customized request workflows

Learn more about our integrations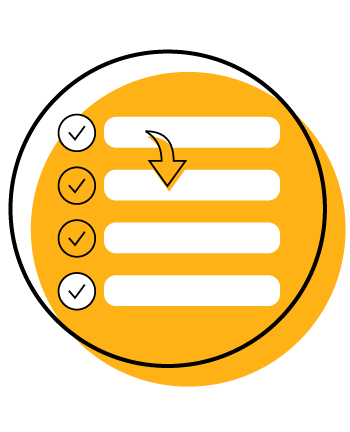 Create a library of custom fields for each Stream
Choose from eight field types, make fields optional, add hints for other users

All fields will sync seamlessly with any connected tools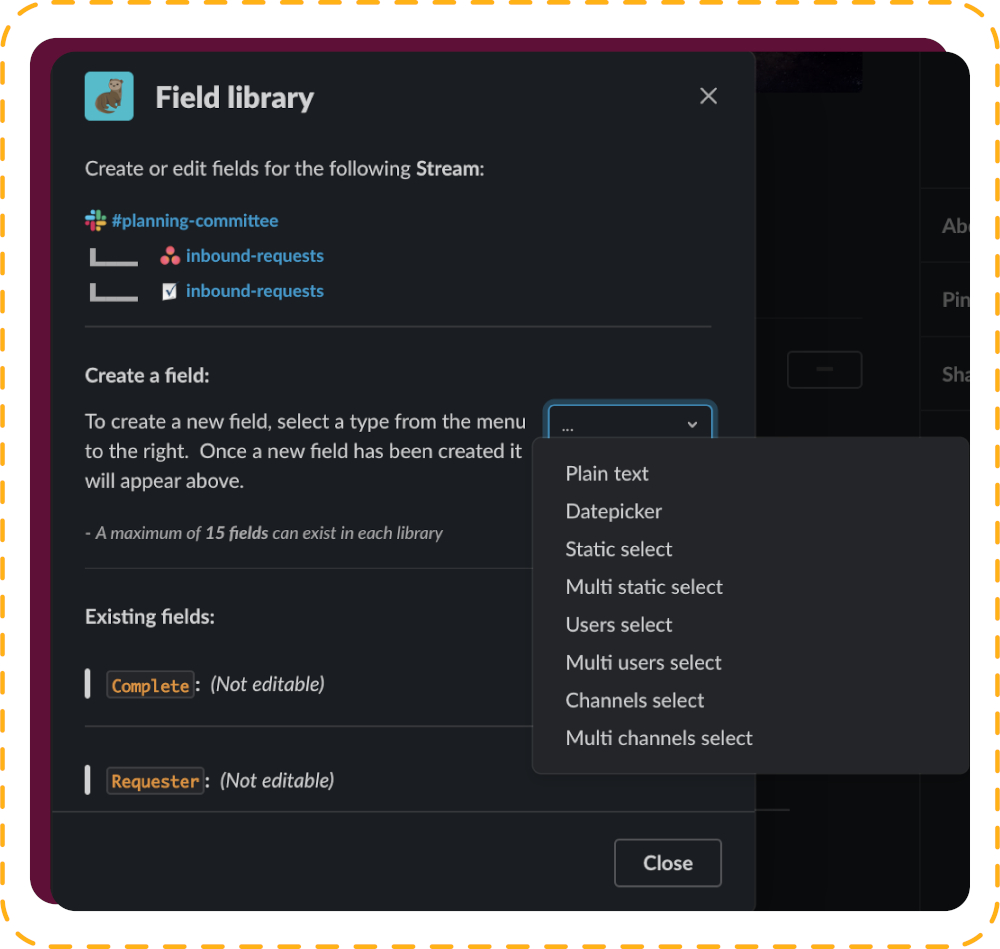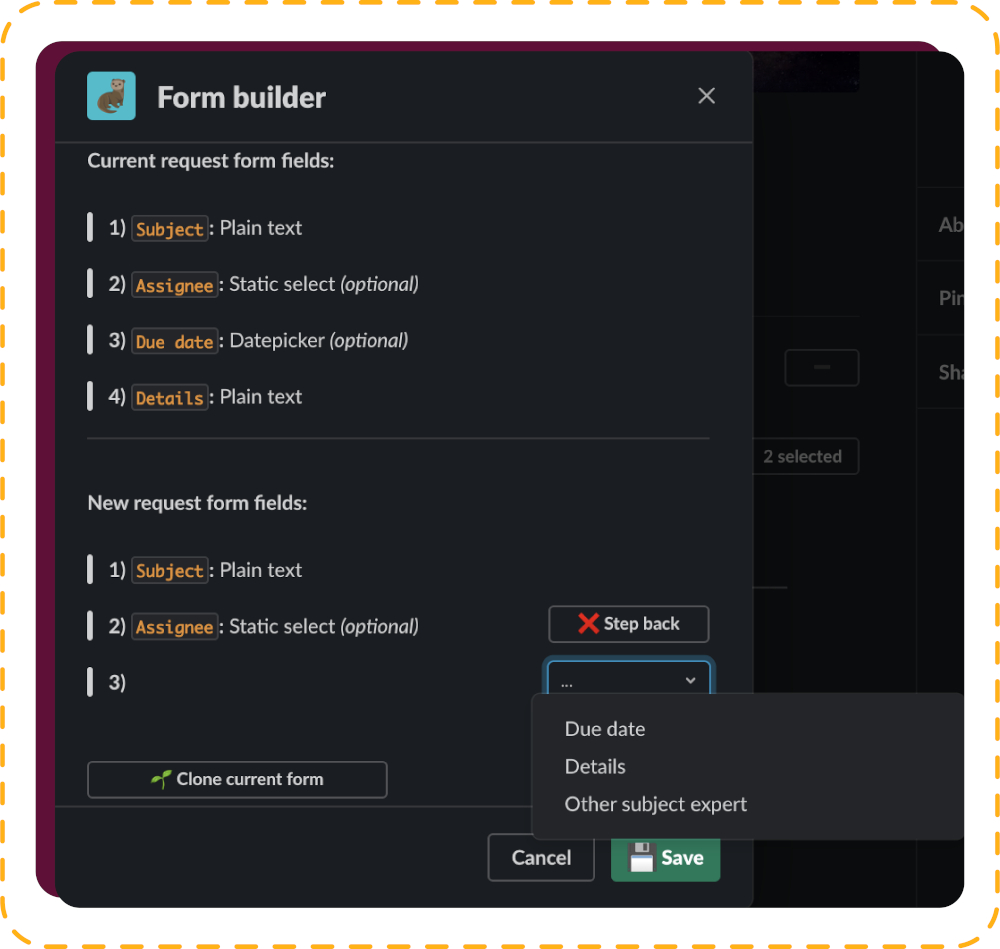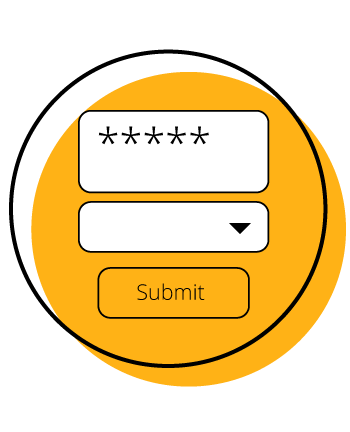 Build a customized request form for each Stream
Easily choose fields field from your library in any order

Updates to request forms are reflected in any connected tools, keeping everything running smoothly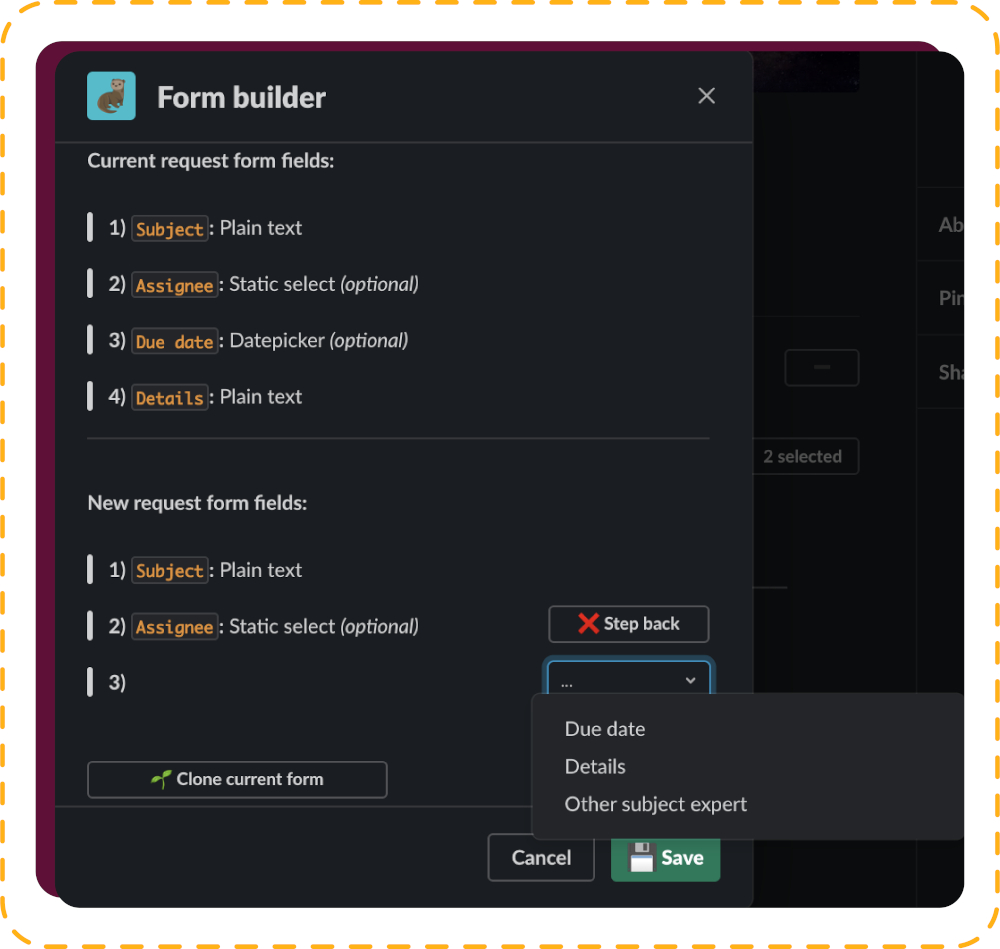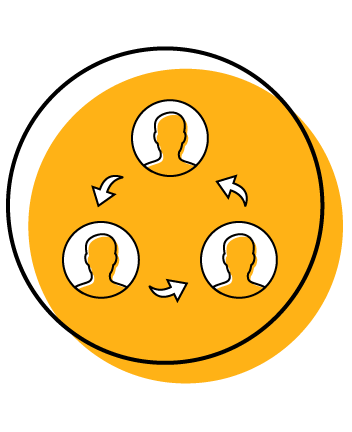 Drive adoption with minimal effort
Your company lives in Slack, so should your workflows

Requesters don't need to leave Slack or learn new tools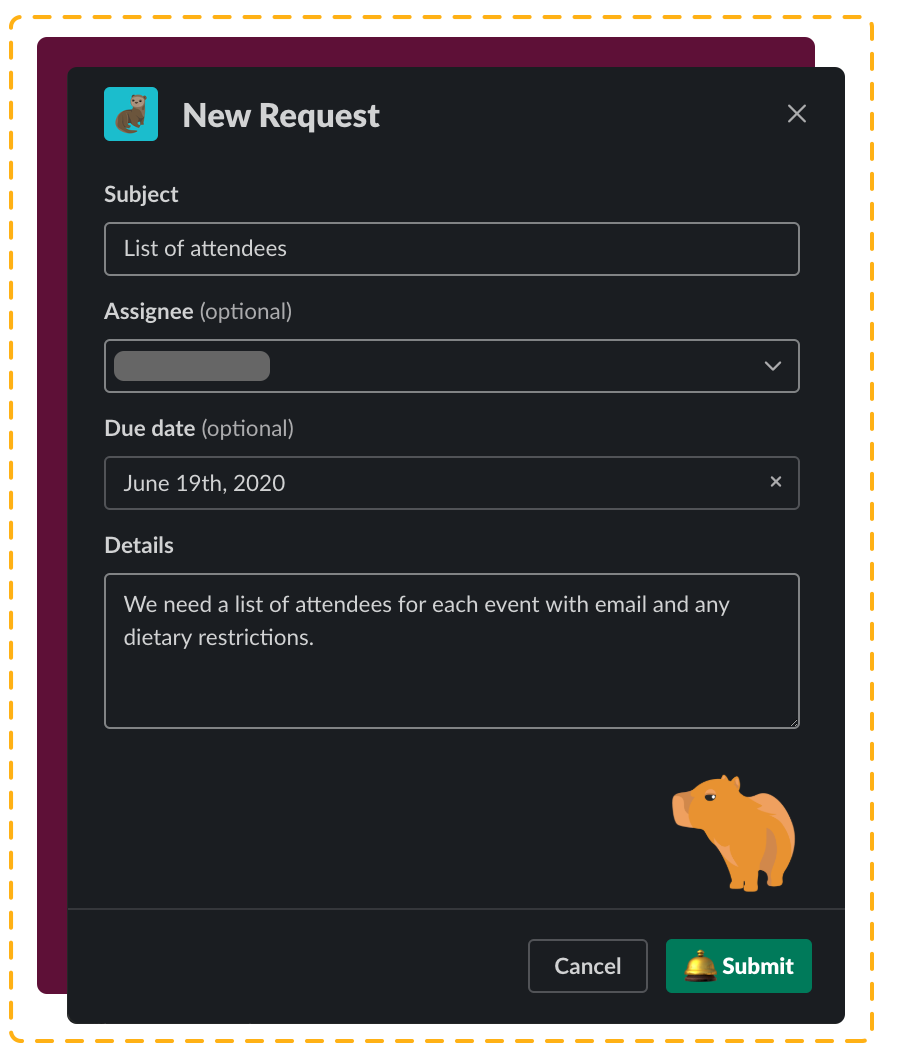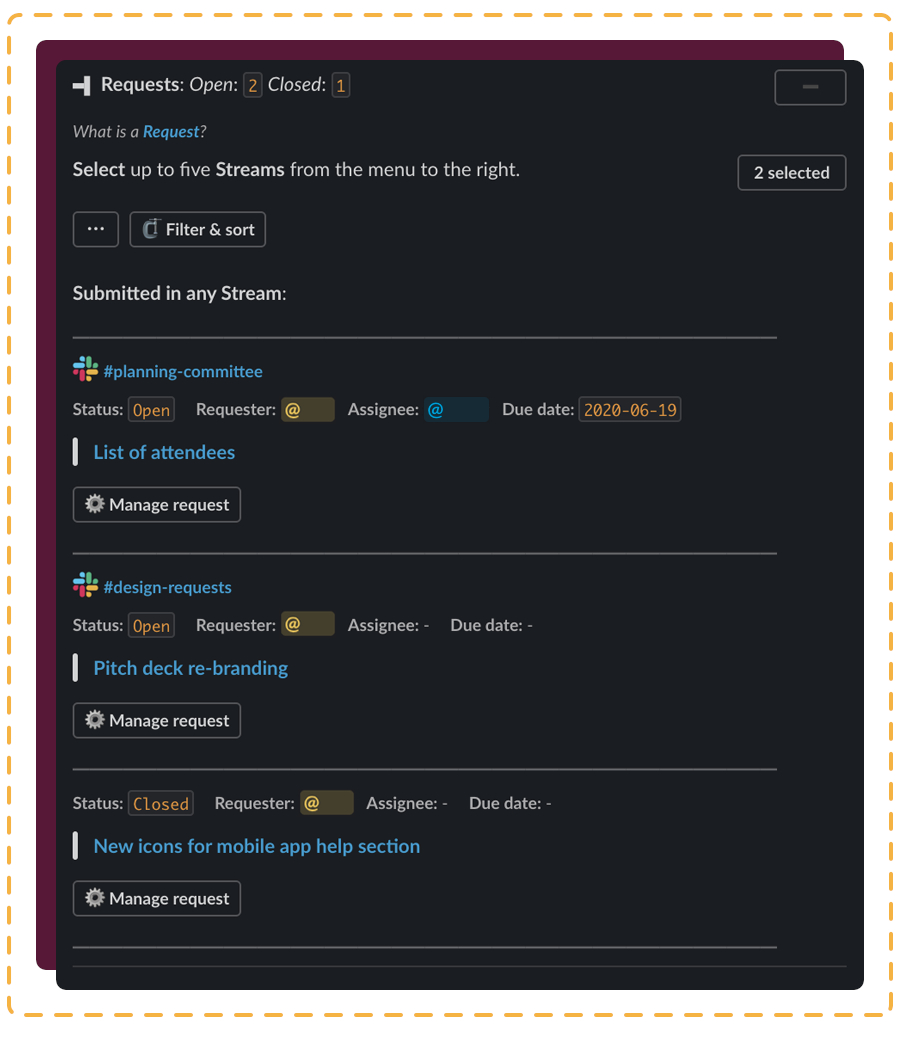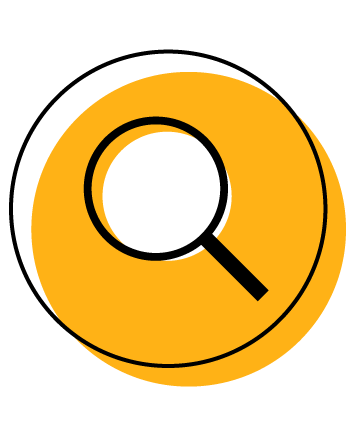 Find what you need without digging through messages
A sleek, customizable app home surfaces exactly what team members and requesters need

Streams, requests, and integrations are always just a click away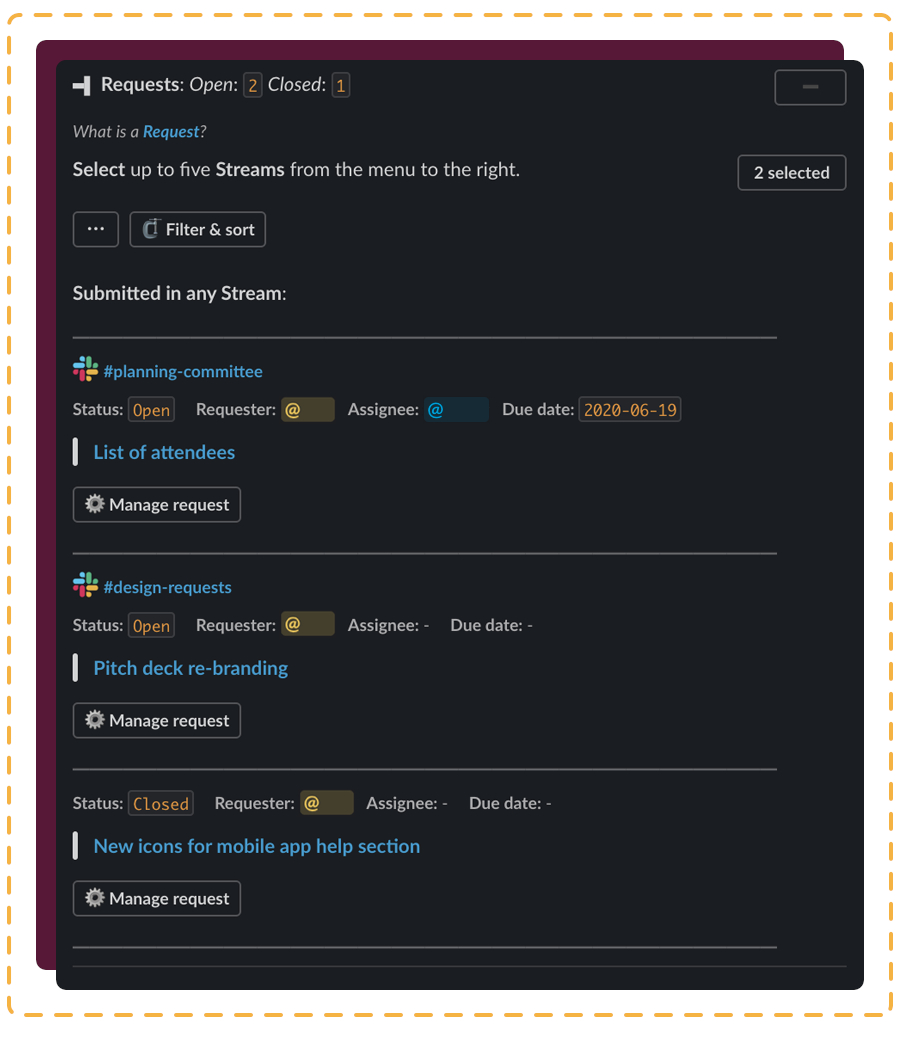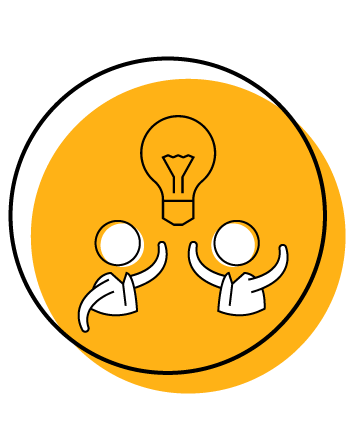 Give your team a private place to triage and collaborate
Manage approvals for changes to task status, due date, and assignee

Resolve task discrepancies between Slack and connected tools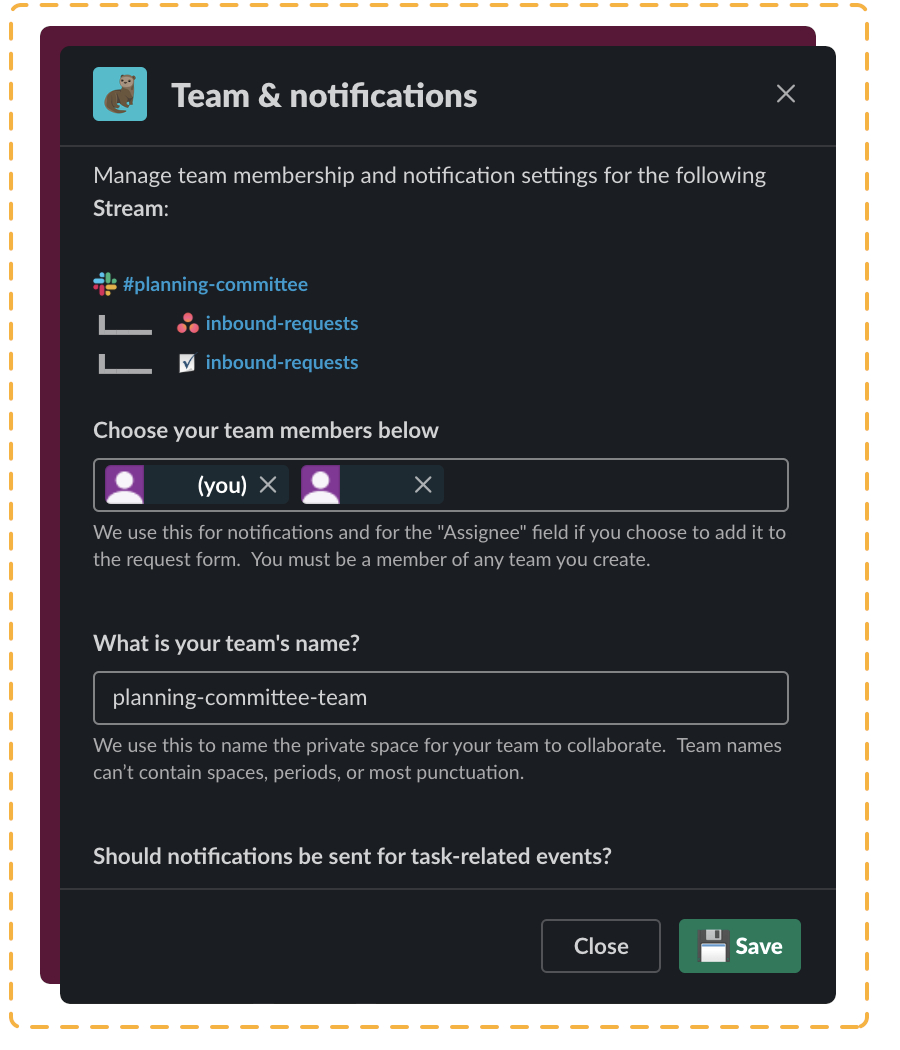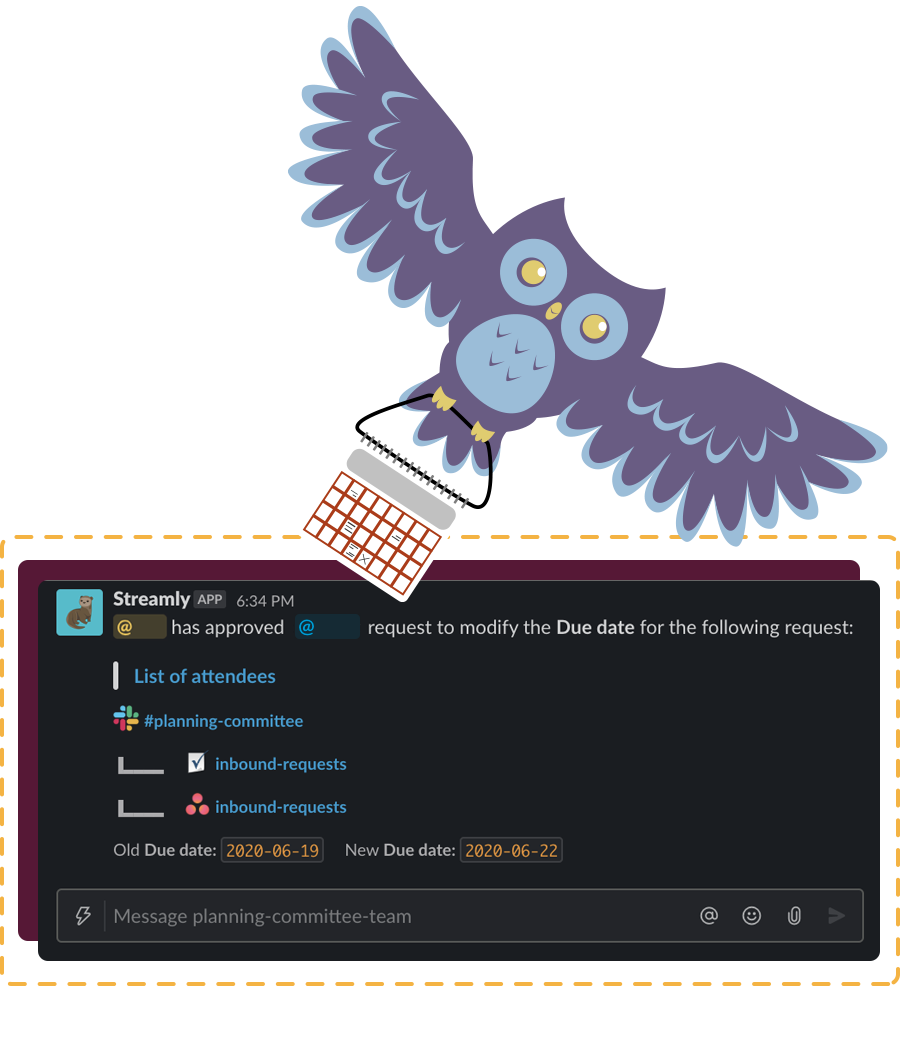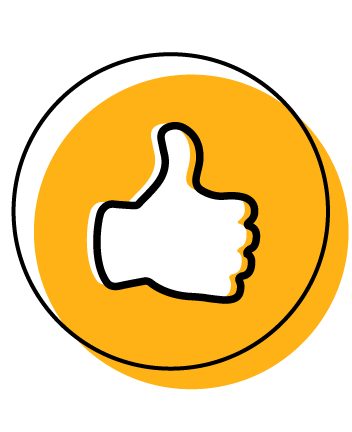 Like a virtual PM,
@Streamly

keeps stakeholders informed
Changes to tasks and approval decisions are communicated back to requesters

Grant workload visibility to stakeholders without giving them access to your team's tools or private conversations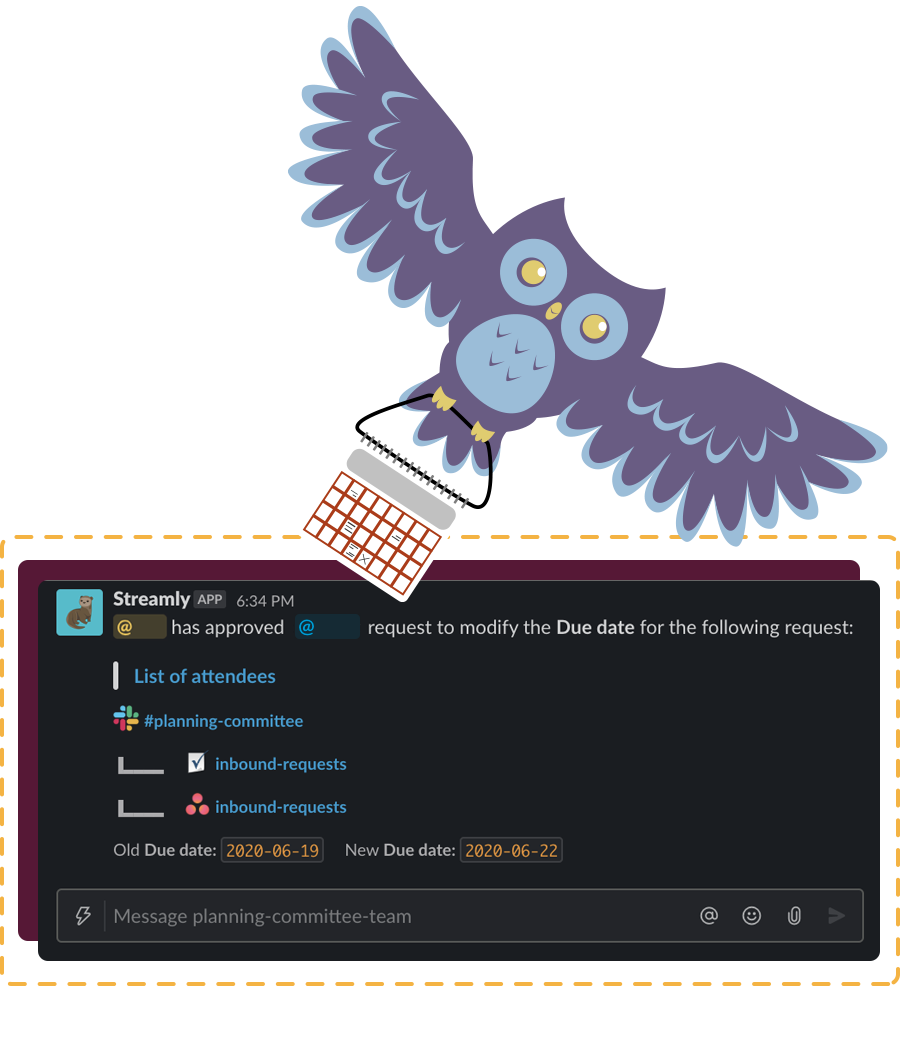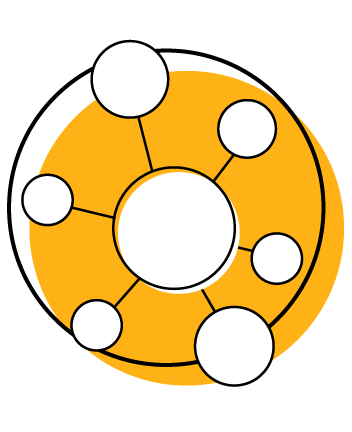 Connect and sync your favorite tools
Connect one or more tools to a Stream to keep tasks and comments in sync everywhere

Don't see the tool you're looking for? Odds are it's on our roadmap.
Drop us a line for more info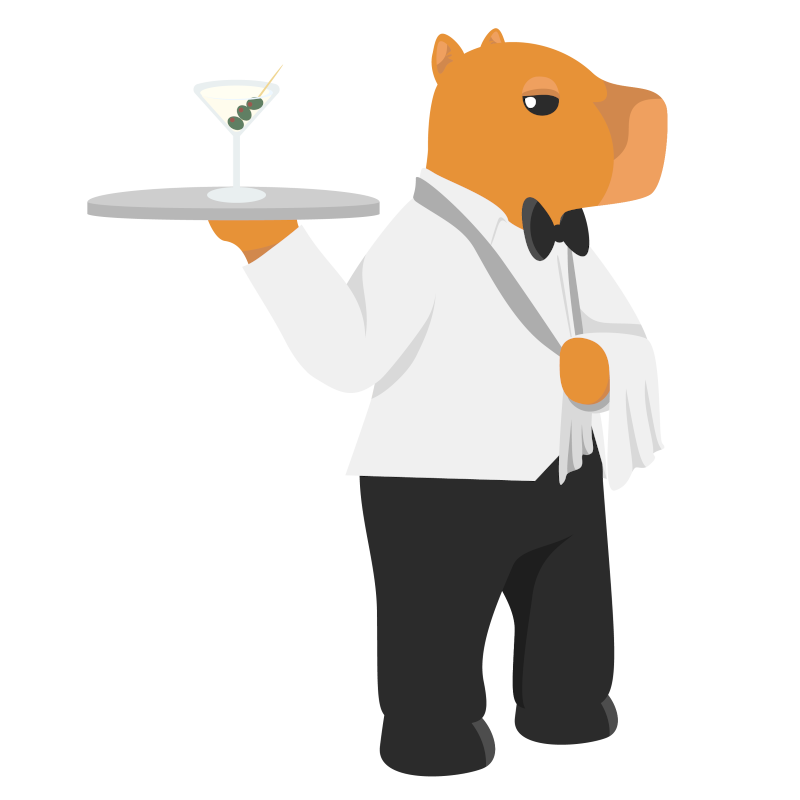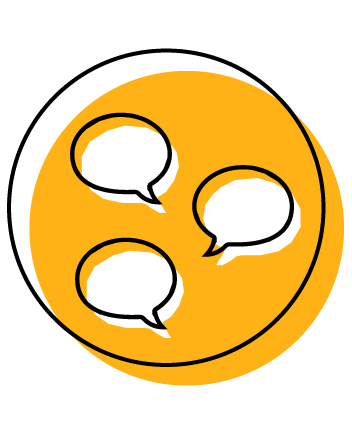 You don't have to leave Slack to get help with
@Streamly
Our apps have live support built in: just click the Help button in the App Home to open a ticket

Our support team will quickly respond in the Messages tab of the App Home
Learn more in the docs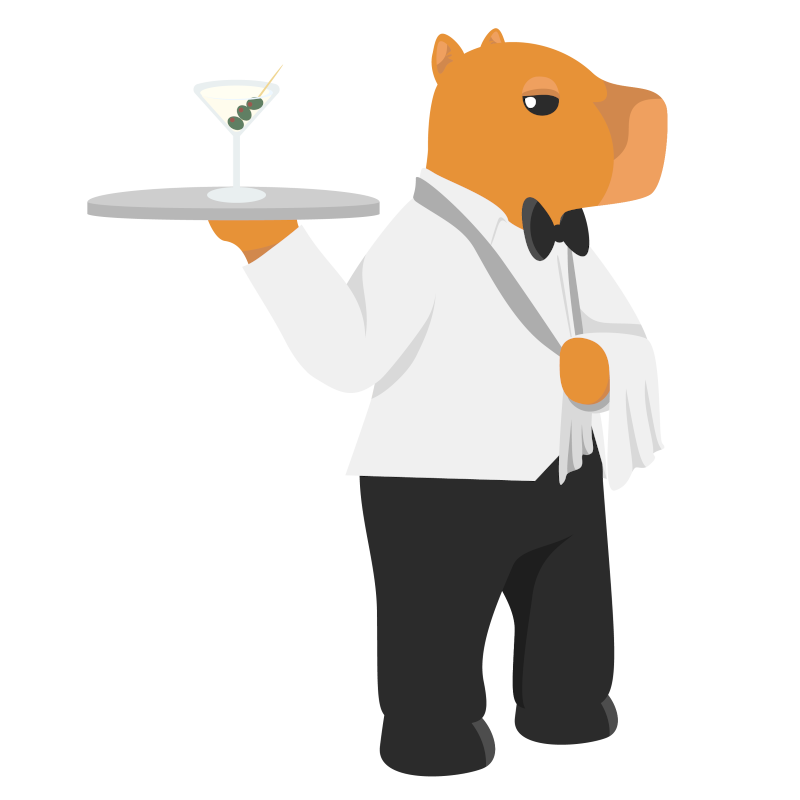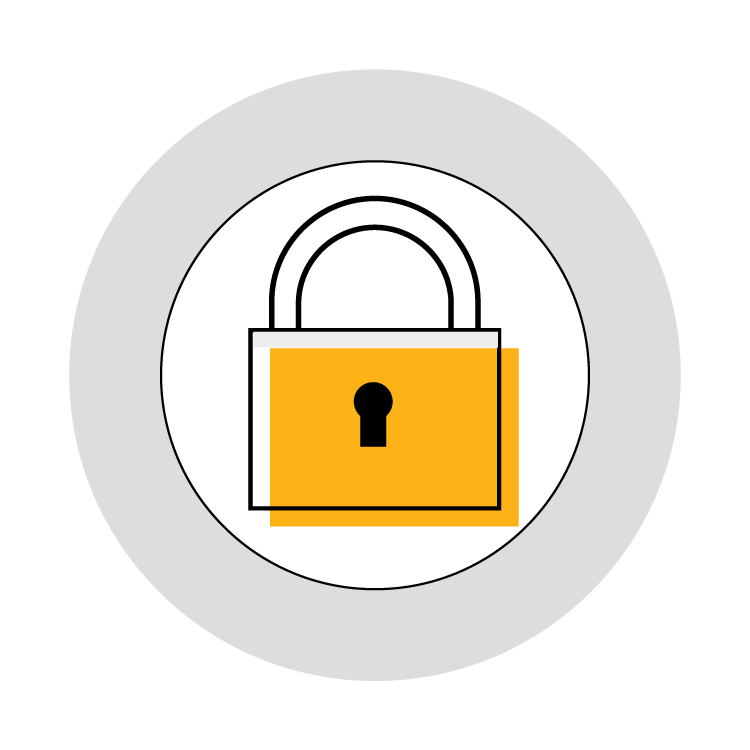 Sleep well knowing your data is secure
Your data is kept private using granular scopes. @Streamly can only see what you want it to see.
Our API uses TLS 1.2 and your data is encrypted at rest. We only store what we need to tie @Streamly your tools, we do not record the content of Slack messages.